Paxton Hat In Black
$89.99
The Paxton is a leather hat with a pinched crown and shape-able brim. The hat band is the traditional Australian type with its hand braided five strand dressed at the side with a metal Kakadu logo. Great all rounder.

2 3/4 inch brim, 3 3/4 inch crown
Size Guide: S-XXL

Check out how to measure to get your perfect hat size click here
100% Genuine Grain Leather
Specially treated leather with a rich dull lustre that is free from all surfaces imperfections. A firm handle that will relax with age.


CARING FOR YOUR LEATHER HAT

Brush off surface dirt using a soft brush or wipe with a damp cloth and allow to air dry.
Occasionally rub in a quality leather dressing which will keep the leather pliable. Ensure that the leather is not subjected to extreme heat.
---
Size Guide
---
---
Related Items
Brumby Hat In Tobacco
$89.99
Sizing Fabric & Care I have a mate that wears this hat - sides...
---
Size Guide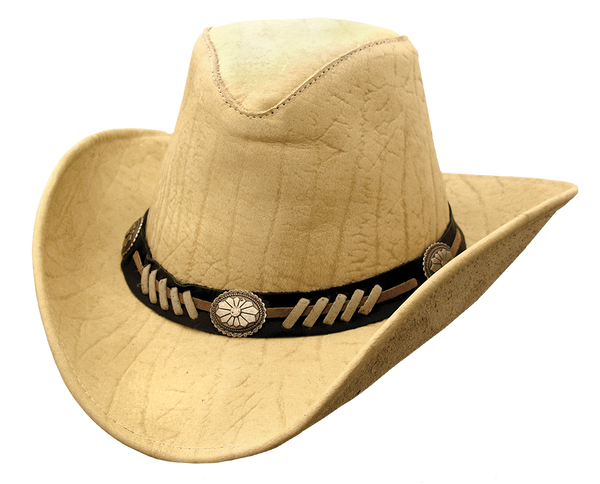 Stampy Leather Hat In Beige
Sold Out
Sizing Fabric & Care The Stampy is an embossed leather hat with a pinched...
---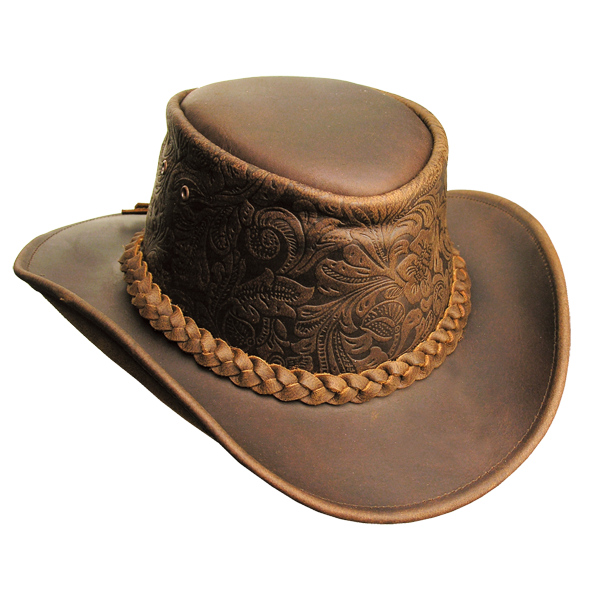 Spainard Leather Hat
$89.99
Sizing Fabric & Care If you're looking for something a little bit different and...
---
Size Guide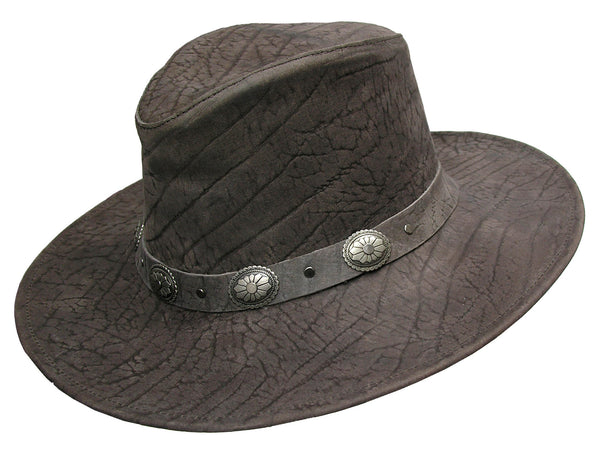 Razorback Hat In Mud Embossed
$89.99
Sizing Fabric & Care The Razorback is a leather hat with a relaxed, comfortable...
---
Size Guide
Size Guide
SIZE CHARTS
GARMENT SIZE GUIDE
On average, women should order one size smaller for unisex sized garments (if you size to a 3XL in women's, order a XXL for unisex).
WOMEN'S SIZE CHART
For women's clothing, order as sized below. 
HOW TO MEASURE YOUR HEAD
Kakadu hats - or Mates as we often call them - come in all shapes and sizes so you're sure to find a Mate that suits you.   
But first things first, lets determine your correct size. Remember you want comfortably firm
Wrap a tape measure or a piece of string (if you use string, you'll need a ruler as well) around your head so that it is above your eyebrows and a 1cm / half and inch above your ears. No need to pull too tight - remember you want your hat to be comfy!
Follow the size guide below to help determine your size. 
There are some slight variations in size depending on the fabric used for the hat - thicker materials mean the hat fit will be a bit tighter and thin fabrics a bit touch looser